Hound Sponsorship

Just $20 a month will provide a month's worth of food and care for one lucky foster in the GC Program. Become a sponsor and help us give each dog the very best we can.
Here are the Basic FAQ's about our Sponsorship Program
Our sponsorship program is designed to be an extra boost to support our foster homes...a way in which those members who cannot foster can supplement the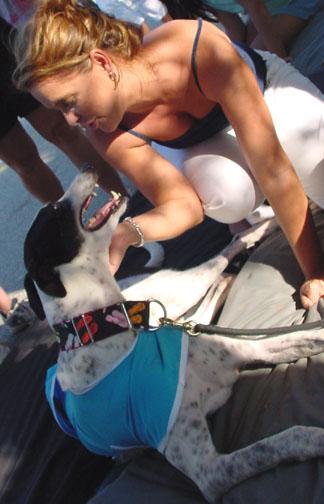 work our active foster homes do on a daily basis.


I've just sent in a foster sponsorship, but I see that 'my' dog was adopted today. What becomes of my donation? Sponsorship money received by our program will be distributed to that foster home, even if the dog is adopted before the check is mailed to reimburse them for the food and care the dog already received.

Do foster homes get any support if they aren't chosen by someone in the Sponsorship program? Our foster homes can elect to receive support from the Foster Support Fund. They are eligible to receive reimbursement for dog food and supples like foster crates and heartworm preventative as long as the dog remains in foster care. There are so many other things the foster homes pay for, however, and this program is designed to help them on top of that.

Why does the money need to come to GC instead of directly to the family? GC is a 501c3 non-profit organization, which means we can thank you for the donation by providing a tax deduction to you. By donating directly to us, you can keep the PayPal receipt for your accountant at tax time!

Can I sponsor more than one dog at a time? Or for more than one month? Of course! You can sponsor in any way you like with GC. if you sponsor a dog for more than one month but it is adopted before the end of the first one, we typically apply that second month donation to another foster dog who has been in their placement for a long time, or hasn't had any sponsorships yet. if you'd prefer for us not to do that, just email Lisa and explain how you would like your funds to be used. We'll do the best we can to do so.

I sponsored a dog but don't see the designation icon next to the dog's photo. how can I correct that? That means we've made a mistake...so sorry that's happened! The website is maintained by different people, and occasionally an error may occur. Please email Kim and point it out so that she can change that immediately for you. We want you to know how much we appreciate the support, and she will want the notices to reflect that correctly!
To Sponsor a Dog:
1. Browse our available dogs and choose the dog you want to sponsor.
2. Decide how many months you'd like to help each one. The minimum sponsorship donation is $20 a dog.
3. Decide if you want to pay via Paypal or by snail mail. For snail mail,
Greyhound Crossroads
Hound Sponsorship
314 Sample Rd
Greenwood, SC 29649
For Paypal, please indicate in the notes section which dog you are wishing to sponsor.
4. Watch as your foster dog thrives in retirement and chooses a new family to love!
For questions about the Foster Sponsorship Program, email Lisa.
---