Beach Bound Hounds
Beach Bound Hounds is the premier South Carolina Greyhound Event, held in Myrtle Beach Every September.
*** Because of Covid 19 & issues with the hotel Beach Bound Hounds has been CANCELLED ***
The event staff is very sad to make this announcement and miss seeing our friends this year. Our sincere appreciation to all of our extended Greyhound family for 20 wonderful years of beach vacations together!
Need more information? Email the staff at beachyhounds@yahoo.com !

The BBH Activities Schedule always includes:
Dawn beach walks
Sunrise Service and Blessing of the Hounds
Educational Seminars and Learning Opportunities
The "Barefoot Stroll" Walking Meet & Greet and shopping at Barefoot Landing
Rainbow Bridge Memorial Table for photos and memories
Crowning of the Beach King and Queen Greyhounds
Opening and Closing Ceremonies
Contests for costumes, tricks, and surprises every year
Greyhound Marketplace for vendors, health services, and adoption groups
Exciting Silent Auction & Raffle drawings
Hands-on Workshops and Crafts
Early Bird Hound Skinny Dip on Wednesday
Canine Good Citizen (CGC & ACGC) Certification Testing
BINGO! (Your hounds can help you win prizes!)
Catered buffet dinner including the dogs
Live Auction during the Saturday night celebration
And more new events each year!
All in four days, and all for only $30 registration per family! What could be better than spending a long weekend with your best greyhound friends at the beach together?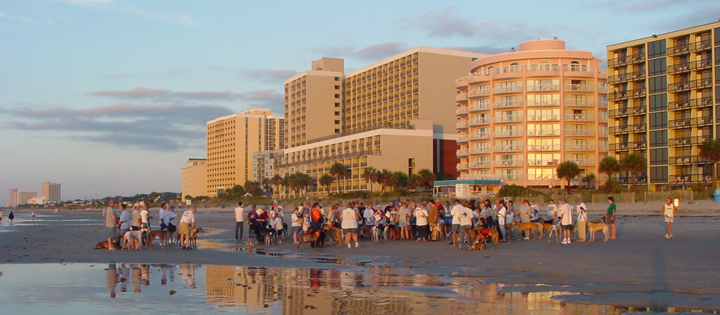 ---