Adoption Application
IMPORTANT NOTICE- 4.26.20
Because of Covid 19, the end of Florida greyhound racing in December, and the early closure of 3 more tracks during the pandemic, we have received far more applications than we can process in the coming months.
At this time we are suspending applications for new adopters.
If you have already submitted an application and received confirmation from our volunteers, you WILL be processed in the order of receipt.
We are only placing greyhounds with repeat adopters that are already approved and in our system. If you have already adopted from us please contact your adoption rep or one of us to be added to the waiting list.
If you are hoping to adopt for the first time by the end of the year, please know that we can no longer guarantee when we will have new dogs arriving or in what numbers. If you have the opportunity to adopt with another group, we strongly encourage you to pursue those options.
We are beyond saddened that Greyhound Crossroads has reached the point where are forced to turn people away. This is a heartbreaking situation that we would have never believed could happen to our community and not a decision made lightly. As a group formed of dedicated and passionate supporters of the American Racing Greyhound, we will do everything possible to place every greyhound into the right home until we no longer have the option to do so. If you have questions, concerns, or feel you have a situation not addressed by the options above, please feel free to contact me by email so that I can assist you.
For general application questions and status requests, email Application Coordinator Jamie Elrod
~~~~~~~~~~~~~~~~~~~~ STOP! Please read NOTICE ABOVE! ~~~~~~~~~~~~~~~~~
Attention Returning GC adopters! You do NOT need to file a completely new application if you're already on our active list. We are working on a new program for you, but in the meantime contact your adoption rep or email Jamie Elrod (address below) for assistance in quickly processing your request to adopt again. :-)
Adoption Application (closed as of 4.26.20)
Important Adoption Tips!
We CANNOT hold dogs because of our limited number of foster homes. Please apply to adopt when you are actually ready to adopt! Adoptions are first come first served based on when you complete the approval process - application approved and home visit by one of our adoption reps. The faster these can be arranged the more likely you are to get the dog you are interested in.
Being willing to drive to meet a greyhound in another area gives you more dogs to choose from! Our volunteers have already transported the dogs from the tracks in other states, transported the dogs to and from their vetting and have put a lot of time into fostering them. For this reason, we don't ask our foster homes to drive their fosters long distances to meet potential adopters. We hope adopters will be willing do the driving to meet their own dog or wait for a suitable dog to arrive in their area.
Finally, if you do not have cats or small animals please consider adopting one of our higher prey drive dogs that can't live with small animals. These always take longer to adopt out because there are fewer homes that can take them. They may go for months before the first person asks to meet them. These dogs are usually happy, friendly and very interactive and loving toward people and make amazing pets.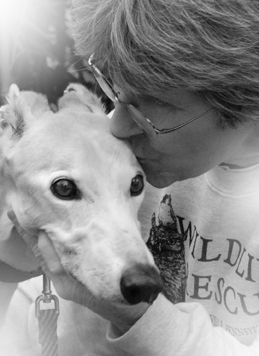 ---