From the Director's Desk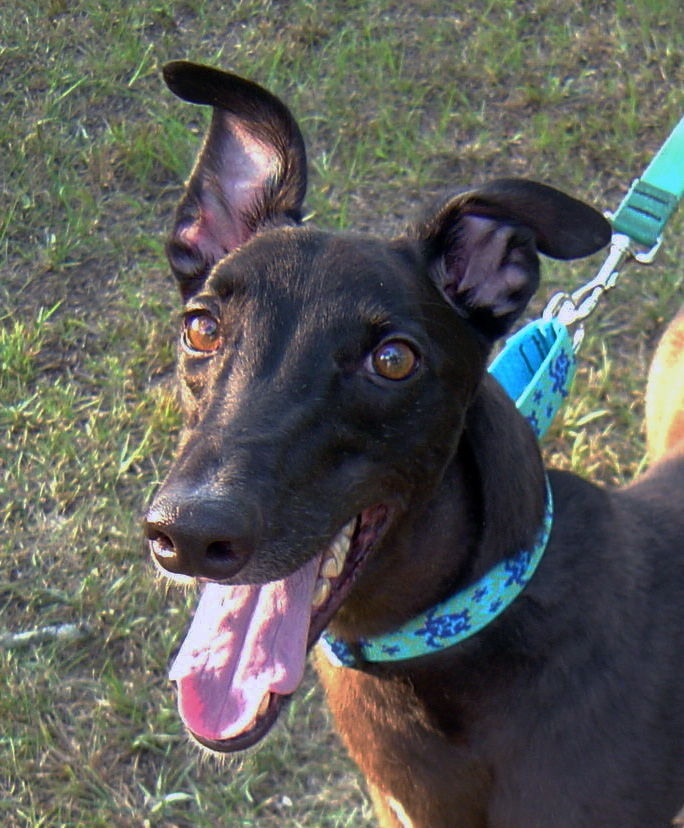 Welcome to the new, improved, REALLY AWESOME
Greyhound Crossroads website!
Over the last almost 20 years GC has traveled down alot of roads together. Our first website was written as part of a small personal page, started by my Bestest Buddy Kristen to teach me how to write in html. I did that one 'the right way', as we said back then, in the basic code using Notepad. Looking back on those days I have fond memories of the few individual pages I was able to write when the internet was a vast, new, unchartered world. My first day on the internet everything was text-only, and I somehow ended up talking to a professor in Brazil! I thought it was absolutely amazing, writing that first simple little website, that we were up there at all. The world would know the name of Greyhound Crossroads!!
The second page was done by one of our original Core Group members, Nancy Lassiter, and was forever a work in progress. We learned a lot together but the group continued to grow as we expanded, stretching our proverbial paws into the future. The internet became a familiar friend-- something that revolutionized the way we did adoptions and spread the word about greyhounds as well. We grew beyond the limitations of a site hosted like that one was and set out to create something with room to expand.
The third 'last' website began as a project with a lofty goal; I wanted a place where individual members could participate on their own as Page Managers. Core member June Pilcher and I learned to use FrontPage and created a much expanded website together. For the first time the site had a theme-- a set of colors and standard elements to pull it all together. We had such joy creating things like the Crossroads signpost with help of my Mother Karren Coplen, and the Burma Shave page was just pure fun at the time. Unfortunately, my goal turned out to be harder than I thought because FrontPage is 'picky'....it's harder than we expected to have multiple people contributing with their own computers from various places around the state. Much of my heart and greyhound soul still live within it's pages, but it's become a monster. Websites have a tendency to spread out....they get tired, it's too hard to keep them fresh, and things which were once important no longer matter several years later. It was definitely time for a new direction. I knew all of these things, of the truth of the matter, but the sheer scope of the task was completely overwhelming. I simply couldn't imagine how I could make it work.
Enter website four! A few of our members not only saw that it needed to be done, but also understood how difficult the transition might be for me. They took the time to really look at the situation and come up with some working solutions that would make it all happen without making me run screaming into the night. This one uses a whole new technology that will allow any of our members to become website volunteers with the only requirement of internet access. Bret Stenhouse, and his developers at WebMeans, have generously given us build time, assistance and options to create a bigger, better, new world for GC. Along with his wife Jenny, Joanne Johnson and Jann Howell, they have rebuilt the page in this new format. Bret and Jenny created the new structure, Joanne created the graphics, and Jann did much of the backup work of migrating information from old to new locations, many people contributed content. I'm very thankful for their dedication to the project and putting so much of themselves into these new pages.
We've just completed the celebration of our Fifteenth Anniversary, and with pleasure I welcome you to our new online home. GC is a very special place....a group that we have formed together, made up of incredible members, owners, and hounds. It is my great honor to serve as the Director of Greyhound Crossroads. In a way I suppose it's my life work, one that isn't without hard times and decisions that can be difficult and painful. Thank goodness those days are few, and far between, and always fleeting. They are out-weighed by days like today; days that shine forth with such an outpouring of love, dedication, trust and commitment. I have never been more proud of what GC stands for.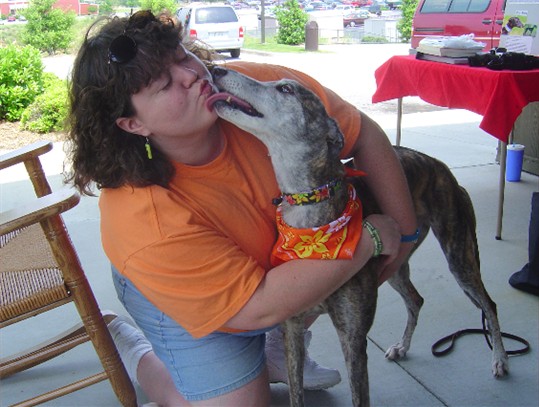 Love to your Hounds!
Kim Owens
The GC Mama Dog
---