Memorial Brick Patio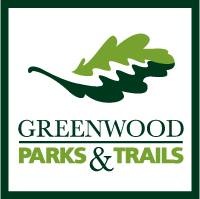 Greyhound Crossroads is pleased to announce our partnership with the Grace Street Dog Park currently being created in Greenwood, SC!
Take a look at the special offer from author Jim Coplen to share his true story of hiking the Appalachian Trail. A huge donation of $10 of the $15 price for each copy purchased will be donated to the Grace Street Dog Park to help purchase benches and tables. All copies will be signed but personalized dedications are available on request. Makes a great gift AND helps our Park! Book Request Form can be found here!
We are official partners with the Greater Greenwood Parks and Trails Foundation:
Grace Street Park, currently under construction, is one of the projects created and maintained by the Greater Greenwood Parks and Trails Foundation. The GGPTF is a non-profit group run solely by volunteers and dedicated to preserve Green Space through local parks, trails, and publically-accessible outdoor areas. These projects are created by hard work and volunteer effort through private funding and donations-- no public tax monies are requested or used in their creation. It is truly a grass-roots effort for the enjoyment of future generations! The official Foundation website http://www.greenwoodparks.org/ and the Facebook group page of the same name are a great source for news and ways to become a Parks Person too.
How do Greyhounds connect with the Grace Street Park?
Kim Owens, the GC Director, is the Chairman of the Dog Park committee and from the beginning dreamed of forming a partnership between the Park and Greyhound Crossroads. Grace Street Dog Park officially opened on October 4, 2014, in honor of St. Francis of Assis. A section of that new park has been set aside as a "Reflection Grove". It will be a natural area of woodsy landscaping, winding paths, dedication statues, and wildlife feeders. The anchor will be a memorial brick patio situation at the end next to the large dog play yard and surrounded by a ring of natural wild Dogwood trees. We believe they were waiting and growing just for this purpose, to form a naturally quiet area for reflection and memories.
As 2015 opens, the committee has entered Stage 2 of the park creation, focusing on adding "creature comforts"....benches, picnic tables, the dog wash station, landscaping, and all other amenities which will help make the park comfortable, relaxing, and usable. The highlight of this phase is creation of the Memorial Brick Patio. Requests are currently being accepted for dedication bricks which will become a permanent installation for generations of visitors to enjoy. Bricks are only $50, and optional personal replica bricks can be added for only $25. These make a wonderful memory, dedication, or thank you to beloved pets or people who have graced your life. Many of our visitors are already requesting bricks for each dog they have had the priviledge to love.
Bricks orders will actually be placed when we get closer to installation to maximize quantities and prevent storing them unnecessarily. Everyone participating will be added to our 'brick club' newsletter for updates and latest information. There will be a public dedication announced well in advance when the Patio is ready to proceed. Everyone will be encouraged to attend, look at their brick, and pick up replicas that were purchased. The Memorial Patio area can be seen in the brown shaded area at the lower edge of the drawing below.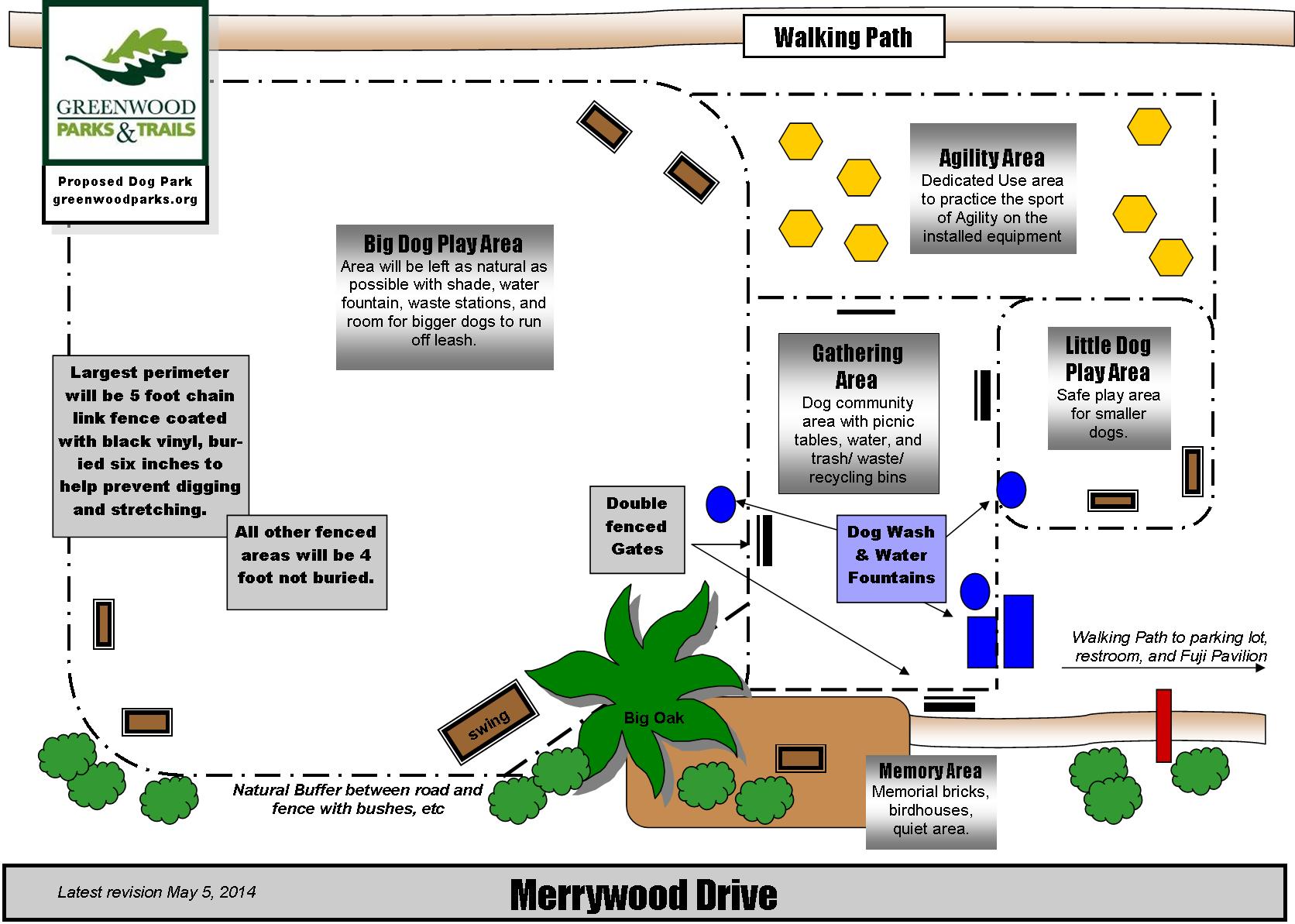 To become part of the Grace Street Dog Park: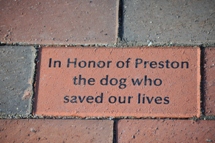 To request permanent placement in the Memorial Patio, please use the Buy-A-Brick order form. Bricks are only $50!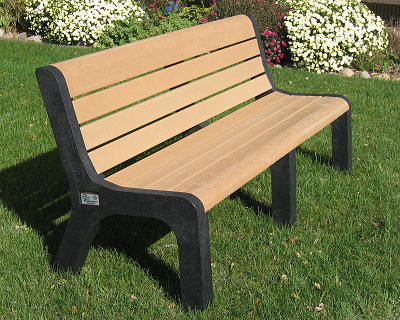 To become a sponsor of the park by helping us provide benches and picnic tables throughout the area, please use this Equipment Sponsorship form.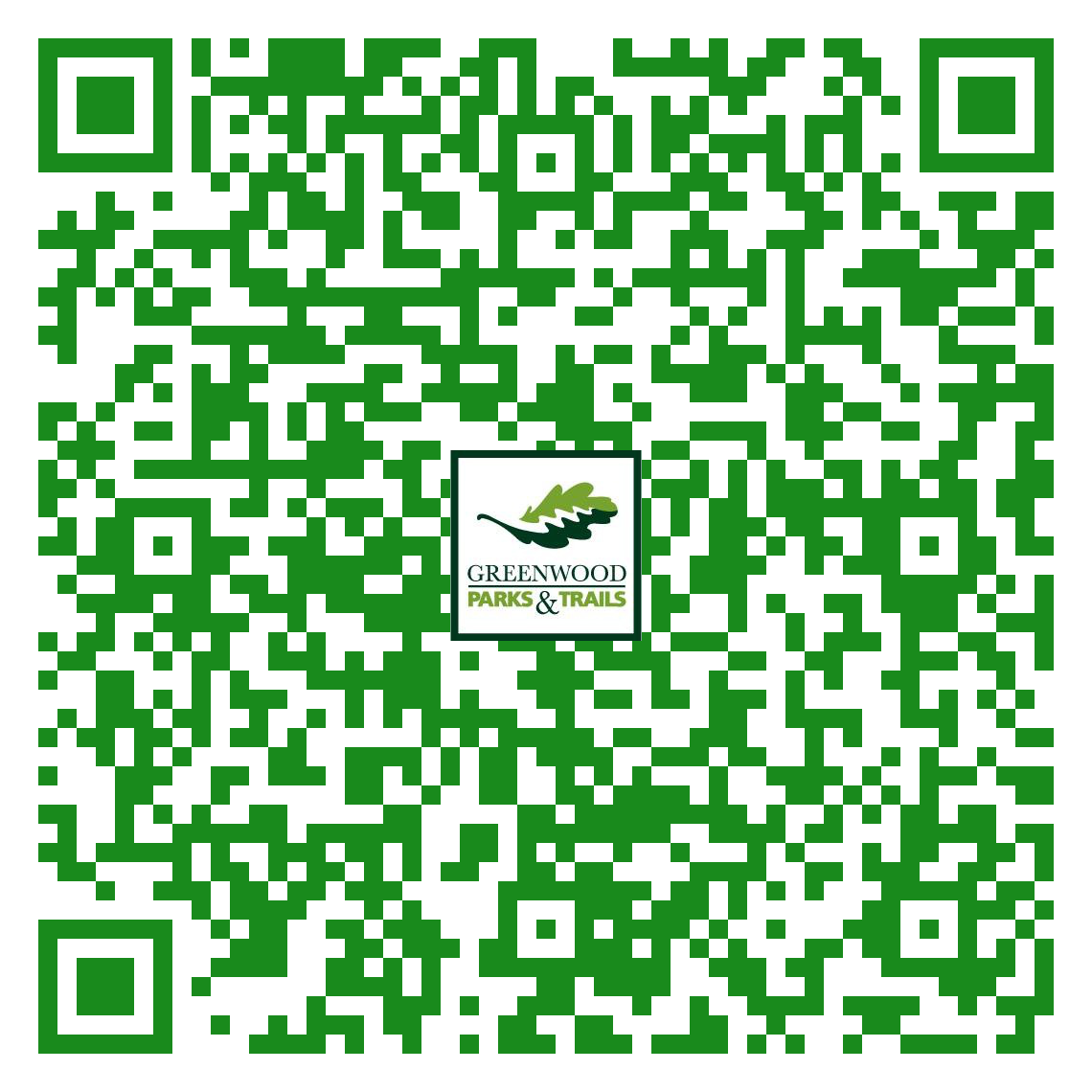 Have you visited the Dog Park? Help us gain continuing support for the project by leaving us Feedpack about your experience!
For questions, concerns, or other ideas of ways in which you'd like to help, email Kim Owens and she will be happy to assist you.
More External Links about the Dog Park and the creation of Grace Street Dog Park:
Index Journal Article about the official Opening and Pet Blessing, Oct. 4, 2014
Webpages featuring Grace Street Park on the new website for the Greater Greenwood Parks and Trails Foundation
Webpage sponsored by committee members to purchase Fundraising T-shirts and Water Bottles featuring the Dog Park Logo. Proceeds will be used to purchase ongoing supplies needed to maintain the park.
Video of Foundation President Billy Nicholson explaining the dream of creating Grace Street Park
The legal beginning- making the proposal to Greenwood Council
On behalf of Greyhound Crossroads, and the Greater Greenwood Parks and Trails Foundation, thank you for participating in the creation of Grace Street Park! We hope you will visit often and enjoy the quiet serenity only found in our beautiful Green Spaces.
---